Gift
of

Life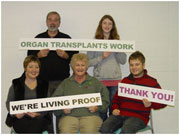 All across Canada people live like the five people shown here. They owe their lives to their donors, both living and deceased who passed on the most amazing gift of all:
The GIFT of LIFE
Living as a donor family member or as a Tx. (transplant) recipient or as one who is waiting and hoping for a transplant, brings its challenges; its hopes, its fears and most important of all, a need to connect with others who understand the journey.
About this Site
This web-connect site is all about linking YOU with major organizational help and information IN YOUR AREA, as well as with support groups and also individuals who wish to give back by helping others with their knowledge, experience and friendship. There are a multitude of wonderful organizations like the Canadian Transplant Association or the Kidney Foundation and many others who have knowledge and information for you.
There are even people like Alistair and Shillane, both Tx. recipients who would try to answer your e-mail questions or connect you with others in your province/area who can be a resource of help and friendship.